Although Juneau is the capital of Alaska, Anchorage is the main hub and population center of Alaska.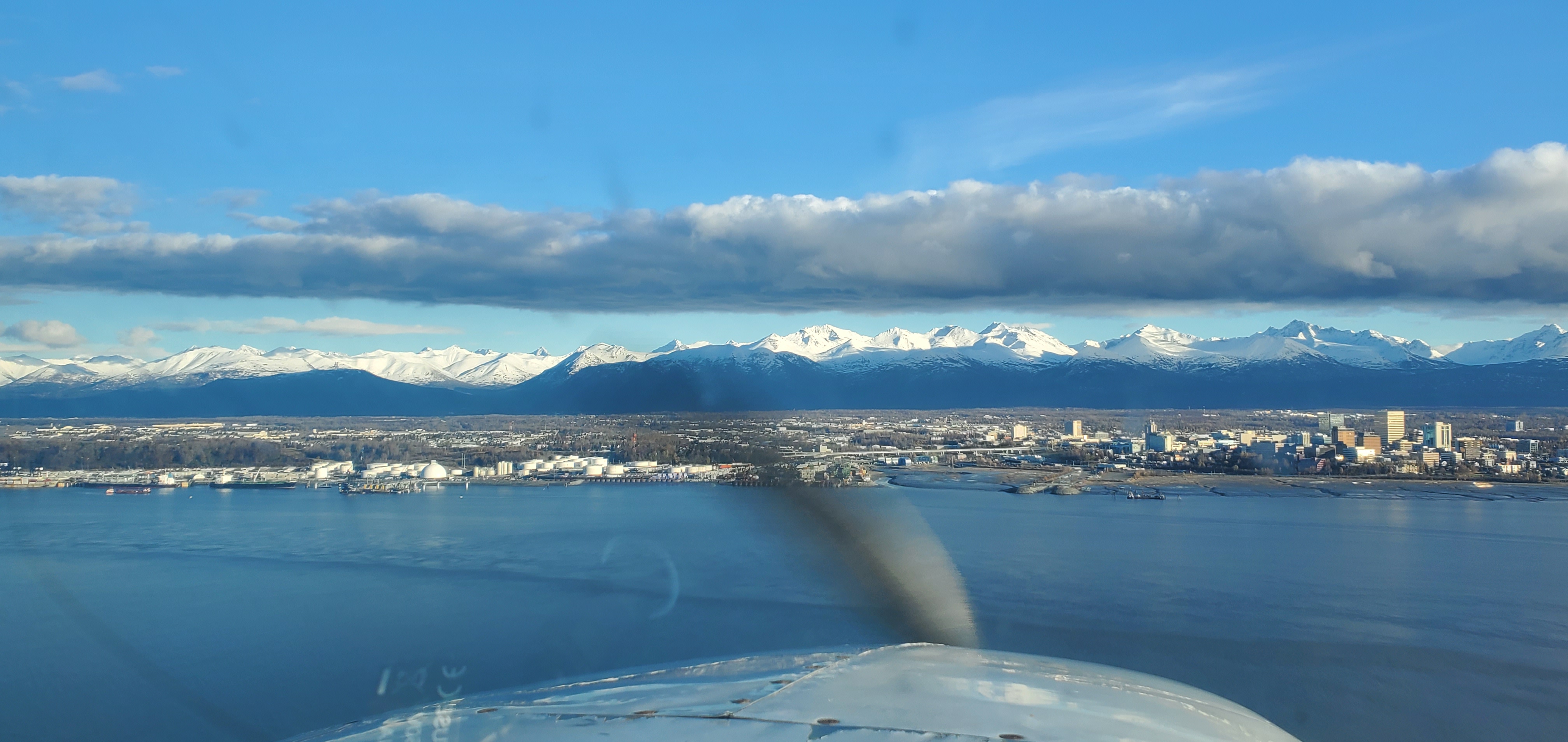 For people living off the road system (such as those who live in Port Alsworth), Anchorage is 'town' and where all supplies and groceries originate from, where we go for doctors and dentist visits, etc… The only way to and from is by small airplane, and learning to stay supplied and healthy in these remote areas is a way of life. People fly into Anchorage a few times a year for big shopping trips at Costco, Home Depot, etc… and everything they purchase is flown out to their village by one of the air taxi services. Then for fresh produce and smaller orders, we have traditionally paid expediter services to go shopping for us once or twice a month and dropping everything off at the airport to be shipped out. Over the last couple of years, many of those stores have added online shopping with delivery, and services such as Instacart have made getting fresh supplies more frequently more convenient.
Anyone flying into Alaska will probably fly into Ted Stevens International Airport in Anchorage. Then flying into the remote areas of Alaska (such as Port Alsworth, where the headquarters for Lake Clark National Park is based) they would depart out of Merrill Field Airport which is about a fifteen-minute drive from Ted Stevens International if flying in a small land plane, or the Lake Hood Seaplane Base which is right next to Ted Stevens International if they are departing on a float plane.
With a population of just under 300,000 Anchorage is a small city by US standards, but still contains roughly 40% of the Alaskan population. Between Hotels and BnBs there are lots of options of places to stay in Anchorage, but because it is such a tourist driven location, it would be wise to book any summer lodging early. Availability for car rentals can be just as difficult during the busy season, but we have heard of people having good success with the popular car sharing services.
There are plenty of bars and tourist shops downtown, as well as other sights of interest around the city. The Moose's Tooth Pizzeria and microbrewery is world-famous and popular with locals and tourists alike. The Anchorage Museum is a great place to learn about the history and wildlife of Alaska. The Alaska Native Heritage Center is a great place to learn about the people of Alaska and their historical ways of life. They have a small lake surrounded by examples of the ways each of the Alaska tribes lived throughout the different areas of Alaska. One that surprised me was the huge log/plank buildings built by those in south-east Alaska.
From Anchorage, you can take the train south to Seward or north to Denali. You can also drive to Seward from Anchorage, and it is a beautiful drive of about three hours. Driving north from Anchorage, you would go through Palmer and Wasilla, the area known as 'the valley'. Many people who work in Anchorage live in the valley and commute, so they can live in a quieter and cheaper location outside the city.
For guests of Sailing Lake Clark, you will most likely fly into Ted Stevens International Airport in Anchorage, spend as much or as little time as you wanted there before flying out of Merrill Field with one of the air taxis there to Port Alsworth. When the weather is good, and the planes can fly through the glacier passes, it is an amazingly breathtaking flight viewing the raw beauty of the mountains and glaciers and mountain streams and waterfalls through Lake Clark Pass. Once you land in Port Alsworth, you will get on the catamaran and your adventures will really begin!